Tractor Spare Parts and Accessories Manufacturers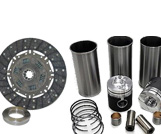 Grindlays India Pvt Ltd is a prominent manufacturer, supplier, and exporter of tractor spares and parts in India. We use state-of-art technology while manufacturing tractor parts, tractor accessories and tractor components. Our specialty lies in offering super quality tractor spares that suits various models Massey Ferguson, Ford, Fordson, David Brown, John Deere, Zetor, Deutz, Fiat, Ferguson etc. We also cater to aftermarket tractor parts apart from these models with better quality at fraction of cost. Reach out to us to improve the functionality of your new or used tractors.
We, at Grindlays, cater to high quality tractor spares in bulk for over five decades. Our specialty lies in serving B2B clients through superior quality parts. Being a largest manufacturer of tractor equipment, we have gained trust, confidence and belief amongst diverse small, medium and large businesses. We are committed to provide technically advanced tractor parts for the next coming years. We support largest producers in the field and maintain inventory as per the requirement of the client.
Check out the list of exclusive array of spares available at our disposal:-
We are fully equipped with latest technology for customized product development that meets international quality standards at reasonable price. As one of the renowned tractor spare parts suppliers, we conduct stringent quality checks at each stage of manufacturing to deliver you the best quality tractor spares. Want to explore our range of tractor spare parts? Reach us right now for quick delivery of products.